How to download YouTube videos on Mac
When you use VideoDuke, downloading YouTube video for Mac is as simple as copying and pasting. In just a few clicks you can save your favorite YouTube videos to watch later at your leisure.
1
Find the YouTube video you want to save
Open YouTube and find the video you want to download, or browse from within the VideoDuke app. Once you find the video, copy the link.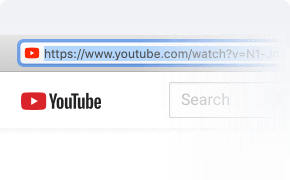 2
Select the Video Format and Quality
After you copy the video link, navigate to VideoDuke and paste the link in the input box. Then select the video format and resolution you prefer from the dropdown menu.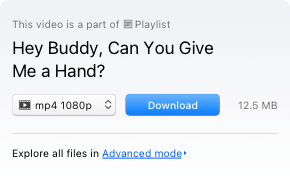 3
Download your YouTube video and go!
Hit the download button, and VideoDuke will handle the rest! In seconds you'll have your YouTube video saved to your Mac to watch whenever you want.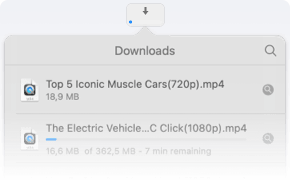 Basic features
YouTube video downloader for Mac
With the VideoDuke YouTube downloader Mac app, you can save your favorite Youtube videos or entire playlists with just a few clicks. Choose between Simple mode or get more control over your YouTube video download Mac with Advanced mode.

Pick the format and resolution you prefer for your downloads, copy, paste, click, and go! While your videos download, you can keep using your computer without interruption.
Advanced features
Download YouTube video and other files related to the video
Using VideoDuke's Advanced mode, you can download all files associated with the YouTube video you want to save like thumbnails, audio files, captions, and more. VideoDuke is a robust YouTube ripper Mac users can depend on to scrape any resources in the website code, and best of all, you get full control over which files you save — or just download all of them! It's up to you.

Even subtitles in SRT for foreign-language films can be saved separately or as part of the YouTube video, so you don't miss a thing when you download a movie, lecture, or another video.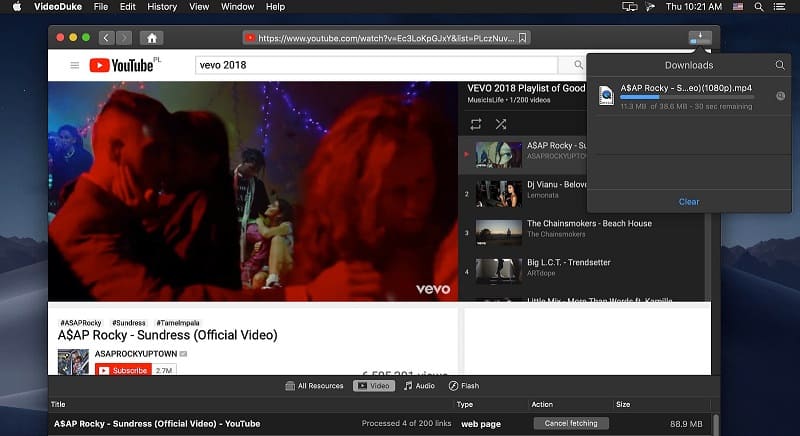 Additional features
Even more features from the best YouTube downloader Mac
VideoDuke is a robust YouTube
video downloader Mac
users can trust for all their video downloading needs with convenient features that make it easy to start building your offline media library. Choose videos from hundreds of websites, and set up the app to fit your preferences for even faster downloads.
Built-in Browser
Browse the videos you want to download from within the app using the built-in search bar.
Quick access
Find a quick access button to YouTube, Vimeo and Dailymotion, and other popular video streaming websites from the app's homepage.
Bookmark
Bookmark all your favorite websites and save them to the panel for easy access.
Track your downloads
View your download history any time to keep track of your video downloads.
Browser integration
Add a VideoDuke browser extension, so you can quickly start a download in the app while you search the web.
Pick Your Performance Mode
Choose between Simple mode for quick video downloads or Advanced mode for more control over the files you save!
Download not only from YouTube, but also from other websites
VideoDuke is not just a YouTube Mac downloader—you can download videos from thousands of compatible websites*, choosing your favorite movies, music, and media from social media platforms, video streaming websites, and more. Some of the most popular websites VideoDuke users download videos from include:
*
Problems that may arise while downloading online videos
FAQs concerning YouTube video downloaders
Disclaimer
VideoDuke aims to bring you the best offline viewing experience with video and audio downloading. Your personal videos are for your own enjoyment. However, using VideoDuke to download content that doesn't belong to you isn't something we endorse. If you choose to use VideoDuke for that purpose, then you're agreeing to take full responsibility for any copyright claims or consequences that may arise.

#1 at Video Downloaders for Mac
VideoDuke
Download videos from almost any website
4.5
rank based on
89
+ users
Get a download link for Desktop
Submit your email address to get link for quick download and get started!
Requirements:
,
26.83MB
free space
Category:
Video Downloaders for Mac
Pricing:
Starts from $19.95