How to download Vimeo videos on Mac
VideoDuke is a simple Vimeo downloader that takes moments to use. Once installed, all you need to do is follow a few simple steps, and you'll be able to get the content you want delivered straight to your downloads folder. We're going to look at the steps you need to follow to download your preferred Vimeo videos.
1
Head to the Vimeo Video You Want to Download
Simply head to Vimeo, and navigate to the page with the video you want to download. Copy the URL link.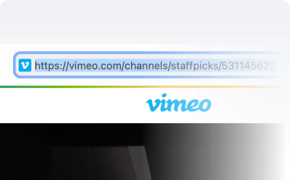 2
Choose Definition and File Format
Once you've got the link, open up VideoDuke and paste the link into the box. You can choose your preferred file format and video resolution from the drop-down menu.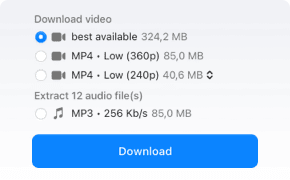 3
Simply Hit Download and Enjoy Your Content Offline
All you need to do is hit the download button, and the content will start downloading. Once downloaded, simply head to your downloads folder, and you'll be able to view your saved content.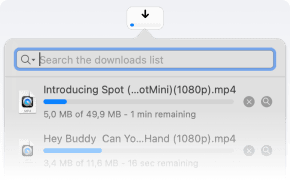 Basic features
Vimeo downloader for Mac users
VideoDuke is the best tool to download Vimeo videos Mac users can enjoy offline. The simple mode provides you with the bare basics. All you need to do is paste in the link to the page containing the content you want.
You get your choice of a number of different formats, as well as different resolutions depending on exactly what you need. Once you've made your choices, simply hit download to send the content straight to your downloads.
Advanced features
Download video from Vimeo and other files you need
Once you know
how to download from Vimeo
using VideoDuke, you can actually use the advanced version to get a whole selection of other data apart from just the video. Advanced mode actually lets you take your pick from just about all the content available on the page - video, audio, captions and images. You can even download subtitles as .srt files, letting you make use of them later.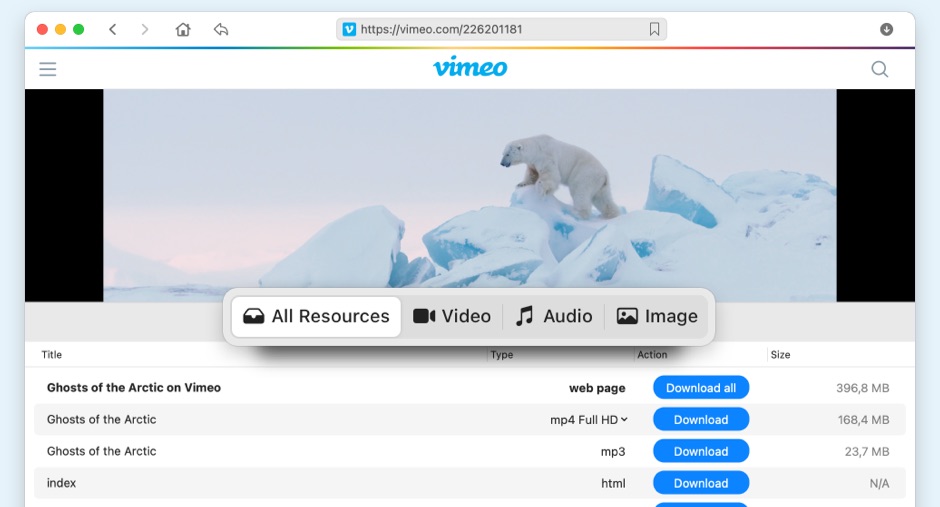 Additional features
Get even more out of Vimeo downloader for Mac
VideoDuke is more than just a tool to download video Vimeo Mac users can save. It also features a whole host of other features that make it the ideal tool for a wide range of functions. The following are some of the more stand-out features you can expect from VideoDuke.
Built-in Browser
Search for content from a wide range of sources, without having to navigate to the biggest streaming sites around.
Fast Access
A single click takes you straight from VideoDuke to the major streaming platforms.
Bookmark
Save websites for later, making it easy to get straight to your favourite pages.
Download Tracker
Keep an eye on downloads at any point, making it easy to organise as you download.
Browser Integrations
Integrate VideoDuke into your browser, allowing you to access downloads at the click of a button.
Simple/Advance Modes
Choose simple for a straightforward downloader, or use Advanced to unlock the full range of available features.
Download videos from Vimeo and other video hosting websites
VideoDuke allows you to download video from Vimeo Mac compatible, but it can be used for a lot more. VideoDuke can take you straight to the biggest streaming sites and social media platforms in the click of a button. Take your pick of film, music and other media from all the most popular online sources.
*
Problems that may arise while downloading online videos
FAQs concerning Vimeo video downloader Mac
Disclaimer
VideoDuke aims to bring you the best offline viewing experience with video and audio downloading. Your personal videos are for your own enjoyment. However, using VideoDuke to download content that doesn't belong to you isn't something we endorse. If you choose to use VideoDuke for that purpose, then you're agreeing to take full responsibility for any copyright claims or consequences that may arise.

#1 at Video Downloaders for Mac
VideoDuke
Download videos from almost any website
4.5
rank based on
89
+ users
Get a download link for Desktop
Submit your email address to get link for quick download and get started!
Requirements:
,
55.96MB
free space
Category:
Video Downloaders for Mac
Pricing:
Starts from US$29.95