How to download Twitter videos on Mac
VideoDuke is the easiest Twitter video download app you'll find! In just a few simple steps, you can download videos from your Twitter feed in seconds!
Check out how easy this is:
1
Find a Video on Twitter
Go to Twitter, and find the video you want to download. Copy the URL from your Internet browser's search bar.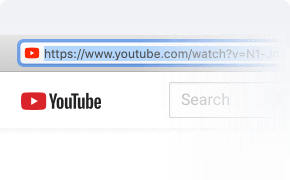 2
Time to Choose Format and Resolution
Paste the URL link into VideoDuke, and select your desired resolution.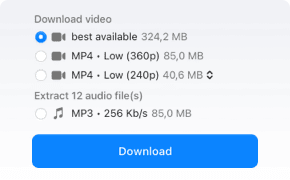 3
Enjoy Favorite Videos Offline
Hit Download and enjoy your awesome new video!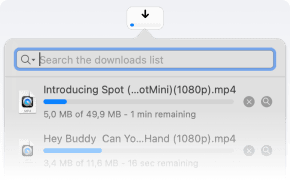 Basic features
Twitter video downloader app for Mac
VideoDuke is perfect for anyone at any skill level needing a video downloader Twitter app.
You can choose from VideoDuke's "Simple" or "Advanced" mode pending on your needs and experience level.
Both Simple and Advanced options offer a plethora of features, including the freedom to choose from tons of video and audio formats!
Never sacrifice video quality for convenience again: VideoDuke is the easiest way to download videos in resolutions from 144p all the way up to 4K.
Coming with a wide list of supported websites, VideoDuke can download videos from any video hosting website or social media platform. So, in case you were looking for an app to
download from Dailymotion
, the all-in-one VideoDuke is worth considering.
Advanced features
Download videos from Twitter and other files related to the video
VideoDuke isn't just a Twitter downloader video app, you deserve ultimate control and flexibility over your favorite Twitter content, and that's why VideoDuke gives you the power to download the files related to any videos you're downloading!
Just choose the "Advanced" mode, and you'll have full access to all of VideoDuke's powerful Twitter downloader video options.
VideoDuke gives you the power to download: videos, images, even scripts!
Download your favorite Twitter content today using VideoDuke!
Are you a fan of Twitch and looking for a Twitch video downloader to be able to download streams for offline viewing? It's not a big deal for VideoDuke. Download broadcasts of your favorite games in a few minutes.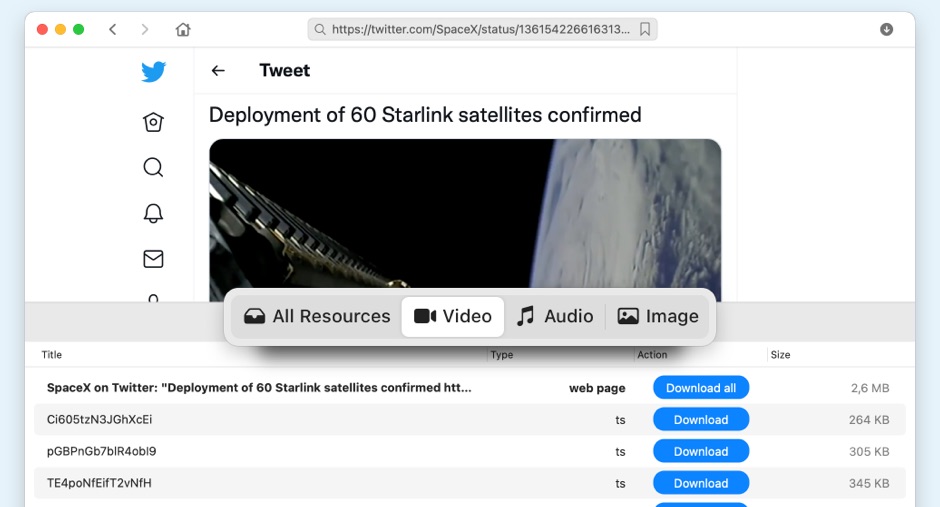 Even more features
Even more features from the best app to download Twitter videos
VideoDuke, the video downloader for Twitter app, even supports downloads on other platforms like Vimeo, Youtube, Dailymotion.
Try VideoDuke's "Quick-Access" buttons and web search tools!
Browser Alternative
Search for videos in the VideoDuke app like a regular browser.
Quick-Access
1-click access to YouTube, Vimeo, Dailymotion and TikTok.
Bookmarks
Bookmark your favorite websites from the app.
Download History
Tracks all of your VideoDuke downloads.
Browser Integration
Add the VideoDuke button to your bookmarks bar.
2 Available Modes
Choose the "Simple" or "Advanced" mode based on your needs.
Download not only from Twitter, but also from other websites
We're more than just your typical download Twitter videos app! VideoDuke lets you download video content from over 1000 different websites!
And while we can't predict every scenario you might encounter using VideoDuke on every website, check out the platforms that we know you'll love using with VideoDuke.
*
Click here for info regarding issues you might have downloading videos online
FAQs concerning Twitter video downloaders
Disclaimer
VideoDuke aims to bring you the best offline viewing experience with video and audio downloading. Your personal videos are for your own enjoyment. However, using VideoDuke to download content that doesn't belong to you isn't something we endorse. If you choose to use VideoDuke for that purpose, then you're agreeing to take full responsibility for any copyright claims or consequences that may arise.

#1 at Video Downloaders for Mac
VideoDuke
Download videos from almost any website
4.5
rank based on
89
+ users
Get a download link for Desktop
Submit your email address to get link for quick download and get started!
Requirements:
,
55.96MB
free space
Category:
Video Downloaders for Mac
Pricing:
Starts from US$29.95