VideoDuke - your Facebook video downloader for Mac
VideoDuke lets you quickly and easily download from Facebook, as well as downloading videos* from other popular sites like Instagram, YouTube, and Vimeo. The software has an in-built search, so it's easy to find videos, browser integration, and supports a wide range of file formats and resolutions up to 8K. Choose between Simple mode, which lets you get started downloading videos right away, or Advanced mode, which allows you to customize download preferences to suit your needs.
*
Problems that may arise while downloading online videos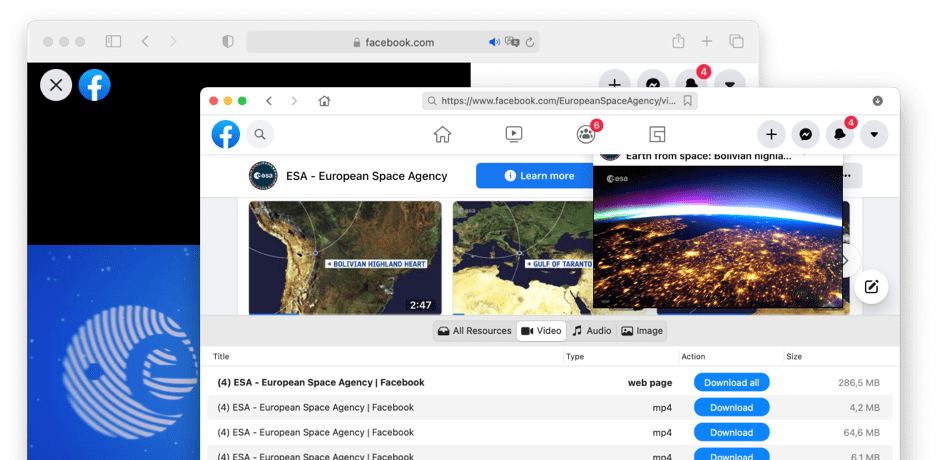 How to save Facebook video in a couple of clicks
With VideoDuke you can choose between Simple and Advanced mode to download from Facebook. You can download videos from Facebook to MP4, 3GP, M4V, FLV and a host of other file types and choose a resolution from 144p through to 8K. First, download and install VideoDuke on your Mac. You can test the software out in Demo mode and download your first two videos for free. Here are the steps to follow:
1
Search for videos
Open your browser and navigate to Facebook to find the video you want to download. Copy the video link and paste the URL into VideoDuke. You can also use the in-built search in the VideoDuke main window to search for videos.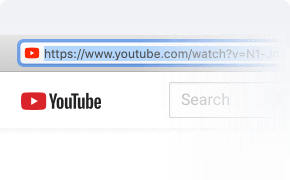 2
Choose your desired resolution and format
From the drop-down menu, select the best resolution and format for your device.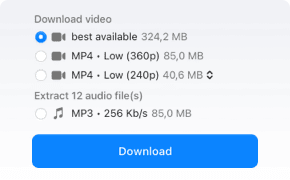 3
Click to download
Click Download and your video will automatically download. By default VideoDuke will save Facebook video to Downloads > VideoDuke. You can change this by going to Preferences.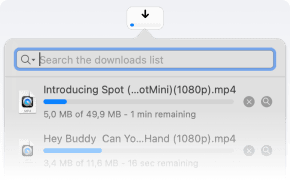 Advanced features
VideoDuke knows how to download from Facebook
With VideoDuke's Advanced mode you can display all the resources available to download alongside your video from Facebook. This could include audio tracks, album art, closed captions, images, etc. VideoDuke gives you the choice to download all files on the page or choose specific ones - for example, just closed captions for the video.
Simply copy and paste the video URL
into VideoDuke and you'll be able to see what's available to download, then choose the files you'd like to download.
More than a Facebook video downloader, VideoDuke also supports downloading from video hosting sites. That means you can
download from Vimeo
, YouTube, Dailymotion hassle-free.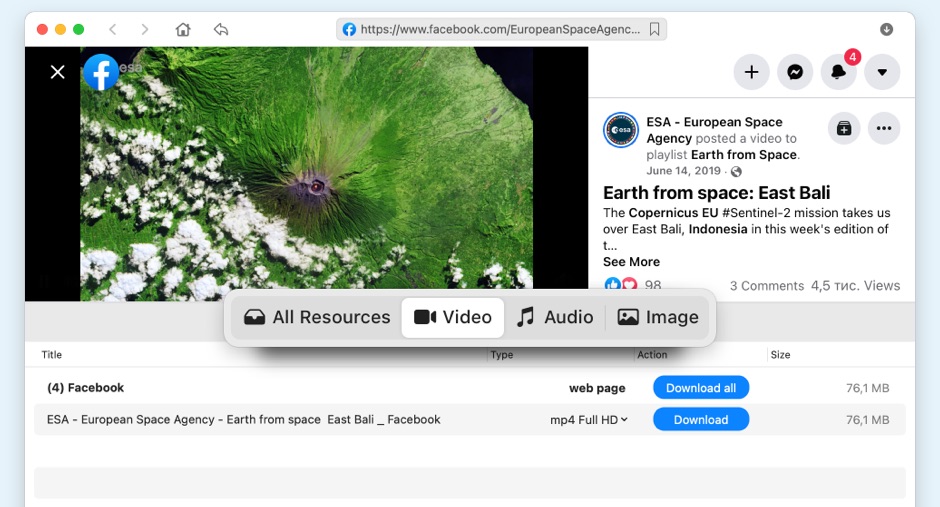 Even more features
Videos downloader from Facebook can surprise you
As well as using VideoDuke as a videos downloader from Facebook, you can also use it as a
TikTok video downloader
. It also allows downloading videos from all the popular sharing sites, like YouTube, Vimeo, and more.
VideoDuke video downloader for Mac is simple to use
, with a choice of two modes and quick access buttons - so even beginners can get started downloading videos instantly. There's a handy in-built search function so you can search for videos from within the main VideoDuke interface, or copy and paste a video URL.
Browser integration
VideoDuke integrates with your favorite browser - just add a bookmark button.
Quick access buttons
These allow you to quickly open Vimeo, Dailymotion, YouTube, Facebook, Instagram, and TikTok from the main VideoDuke interface.
Bookmarks
Easily save your favorite websites to the Bookmark panel.
Download history
View your download history at any time.
In-Built search
Handy in-built search makes it easy to search for videos in the main VideoDuke interface.
Two modes to choose from
Choose between Simple or Advanced mode depending on your requirements and experience.
Frequently asked questions concerning video downloaders
Disclaimer
VideoDuke aims to bring you the best offline viewing experience with video and audio downloading. Your personal videos are for your own enjoyment. However, using VideoDuke to download content that doesn't belong to you isn't something we endorse. If you choose to use VideoDuke for that purpose, then you're agreeing to take full responsibility for any copyright claims or consequences that may arise.

#1 at Video Downloaders for Mac
VideoDuke
Download videos from almost any website
4.5
rank based on
89
+ users
Get a download link for Desktop
Submit your email address to get link for quick download and get started!
Requirements:
,
54.6MB
free space
Category:
Video Downloaders for Mac
Pricing:
Starts from $29.95